*honestly things got more hyphy on this tweet than I had expected them to, but if it's something of interest for our readers, we will start keeping an eye on the best pitches from #indiegames on Kickstarter.*
Kickstarter has been a wonderful source of games in my experience, so long as you go in with the proper expectations (read: "it's ok if I lose this money").
Masquerada, Mighty No. 9 (you know how that one ended), Hyper Light Drifter (my GOTY 2016), were some of the bigger names I've backed over the last few years, but in total I've backed 14 games to this point, and I don't plan on stopping.So, I took a look around and found a few gems that are up for funding right now that I think you should consider backing:
Easily one of the most beautiful game series I've ever laid eyes on (and you know I love hand drawn graphics), The Banner Saga is a tactical turn-based RPG inspired by norse mythology and where your choices in the game will affect how the story plays out. A deep narrative, a strong tactics system, a customizable roster that lets you choose how you build your team, all add up to a strong series for anyone who enjoys Tactical RPGs, and those people should check out The Banner Saga 3.
Your $20 will also get you the first 2 games in the series if you haven't had a chance to experience them yet (which ends up being a great value), and will have to tide you over until the game delivers in December 2018 (est). Being that there are already 2 games you're getting, I'd bet a lot more than the $20 that the third will be delivered, so little to no risk here.
This thing looks nuts. Originality is always a good place to start (and an easy way to stand out), and this game's got that down. I'm a sucker for great pixel art and great action games (see: Hyper Light Drifter) so this game was almost like it was made for me. That action/RPG aspect is crucial, as the game play is what will really make or break the game for me.
It does have a roguelike aspect which isn't always my favorite, but if they get this right, there could be tons of replay-ability.
$16 goes a long way here, but you'll have to wait until January 2018 (est) to play.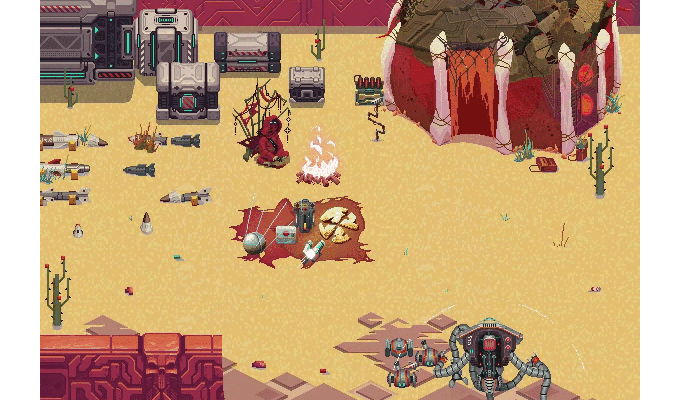 First things first - those environments got me like 'whoa'.
Taking the classic isometric point/click adventure game and setting it in an 80s influenced (with synth soundtrack!) alternate future where alien technology has pushed humanity into the technological beyond - so far beyond we're now in a post-apocalyptic Africa - sounds like something I'd like to experience. Quick specs:
Point-and-click adventure game
80s retro technology look and feel
A story set in a post-apocalyptic future
2D isometric, detailed rendered environments
African landscapes captured with photogrammetry
Extensive use of miniatures and scale model elements
Unique tribal punk aesthetic
Bizarre creatures and animals, and vibrant characters
I'm loving some of these bullet points - tribal punk, photogrammetry captured landscapes, 80s retro technology, bizarre creatures and animals.
I'm not usually one for point-and-click if I'm honest, but I'd be willing to take the leap on this ultra-unique setting and story. For $19 ($17 if you got the Early Bird Special), it's higher up in the price bracket, but if you've played STASIS or CAYNE (which is free BTW, so check it out first maybe?) you know this team delivers, so your money is probably safe, and if you're into this kind of game, it's money well spent.
The only thing that gives me pause is the October 2019 (est) delivery date. It may be a bit long for some backers, so beware if you were thinking you'd be playing this game any time soon.
From the creators of Jotun comes another hand drawn epic, but this time it's in the form of a roguelike metroidvania.
"You play Eshe, a wanderer in a ruined world, trapped in ever­-changing caverns teeming with eldritch horrors. Harness the power of corrupted relics to defeat gigantic bosses, at the cost of your humanity."
Huge bosses are always a draw, but the added touch of choosing to harness powers in exchange for your humanity adds an interesting touch and a reason to revisit.
The game doesn't seem to have a shortage of enemies, and I'm really intrigued by the mix of range/melee combat that seems high-pace and fluid.
With the ever-changing levels and replayability that may come with the choice to accept or deny a defeated boss' powers, many will find enough variety to keep them busy when the game arrives in July 2017 (est), and for $15 I think it's a great deal with low risk.